Hi, hope everyone is having a great time!! I'm sharing 2 easy and simple bubble braid hairstyles in today's blog post, that I wanted to share along with when posted the video on my YouTube channel, but freak couldn't post it then, so now.
I love bubble braid hairstyles and have been wearing them pretty often these days, so thought to share with you guys here, if you're interested you can watch me doing the braids here.
First hairstyle
Anyways so to create the twin bubble braid hairstyle, I first middle parted my hair into two equal sections and then I started with left hand hair first (you can try with right side hair alternatively!)
So first I secured my hair base with an elastic band and then I tied another elastic around after 2 inches gap from the first tie. Next I pinched the middle section between 2 elastic bands to create that bubble braid.
Alright so next I tied another elastic band after 2 inches like how I did the first bubble braid and pinched that for volume and I did that again for the third time to create total 3 bubble braids.
And I did repeat the same steps on the other side of head.
Look at my bubble braids, I'm so so obsessed with how voluminous and gorgeous they look! So so in love how they turning out to be so bubble and chic.
And our bubble braid first hairstyle is done!!! It's that easy my ladies! And like I said, I'm totally in love how my bubble braids look so big voluminous and chic. I can't wait to wear this hairstyle even more often.
If you have short hair , you can back brush your hair before creating the braids so that the braids look voluminous. I didn't have to do it for my case though. It looks so gorgeous so, oh I'm so obsessed!!
Second hairstyle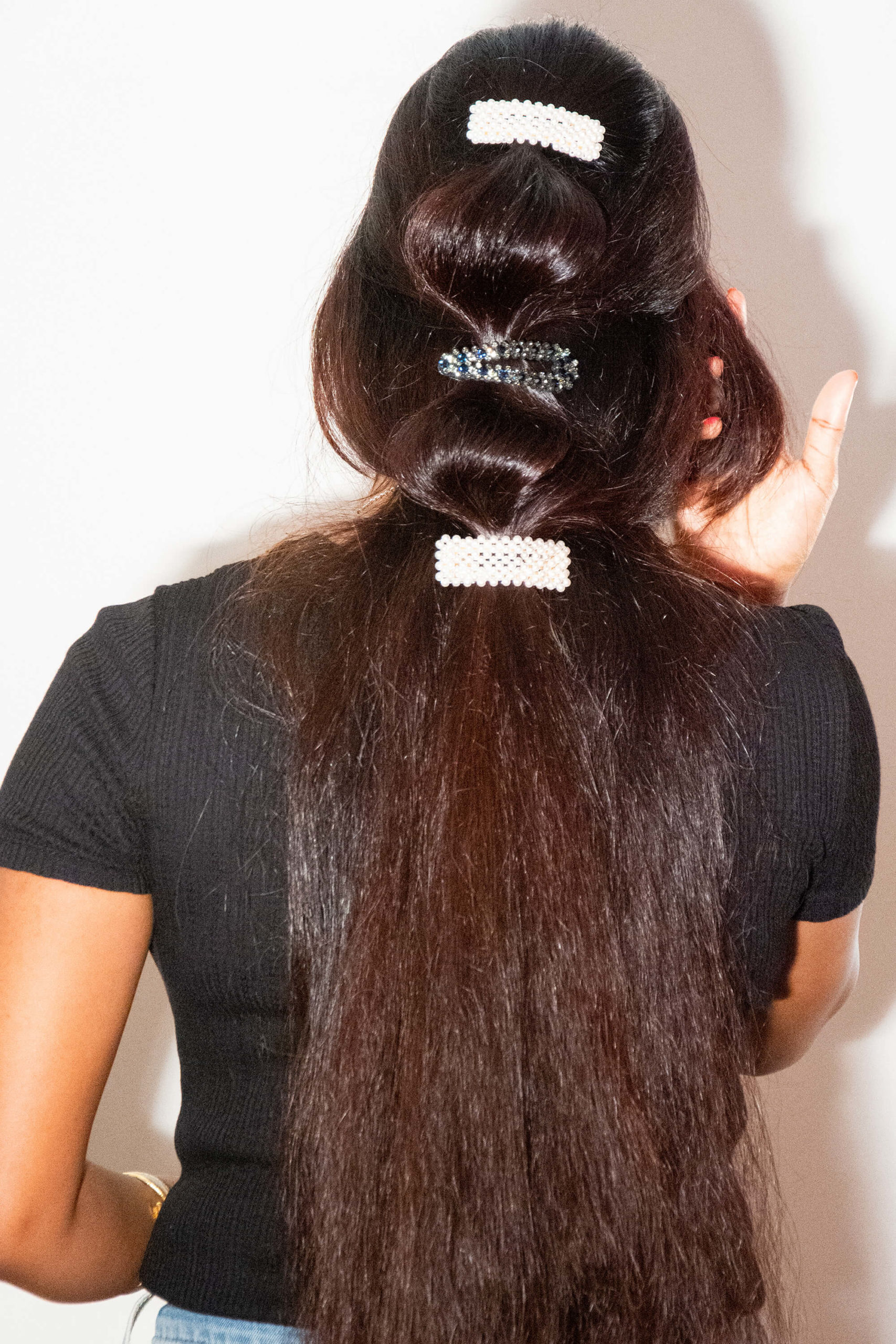 Okay so we have reached to our second hairstyle now. Alright so to start it off I took small section of hair from almost the crown of my head and tied that with an elastic band.
Alright so next I took some hair from both side of my head, I took some hair and grabbed the first ponytail and tied them all together into another ponytail and secured with an elastic band.
Next I again took some hair from above my ears on either side and grabbed the ponytail hair and tied them all together into another ponytail sort of thing like how we created the first bubble braid and now secured that with another elastic band and our second bubble braid is done. Look how cute they look!!! I love how they look, anyways so more volume will always make it look even more gorgeous and flaunting. So I tease my bubble braids for that and here's it's done.
I have used some hair clips (here and here) if you like you can wear them too, or keep it how it come out.
(You may also like reading this previous post here)
I hope you loved these 2 hairstyles post! Thank yo so much for stopping by!